Meteo Products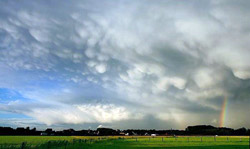 Our core mission is to supply aeronautical meteorological information. We make accurate meteorological observations and draw up weather predictions and warnings for airports. We act as a meteorological surveillance centre for the FIR (territory of Belgium, Luxembourg and a part of the North Sea).
Our meteorological service not only issues messages that were created in-house, but also puts foreign meteorological information at the disposal of airspace users.
Moreover, we fulfil an important international role, being one of the three administrators of a central European meteorological databank (EUR OPMET Databank).
Observations
The current weather is observed permanently in observation stations at the different airports and airfields. On the basis of these data, we draw up the observation messages (METAR messages), coded according to international agreements, which are issued on an international scale at regular points in time.
An extensive network of systems, such as semi-automatic observation stations, weather radars, lightning detection systems and weather satellite images help us to quickly detect weather phenomena that are dangerous to air navigation and to permanently follow up on their evolution.
Weather forecasts and warnings
In order to draw up weather forecasts for air navigation, it is required to create a whole series of messages and bulletins that comply with international agreements or that have sprung from consultation with our customers.
The forecasts relate to the weather situation at the airports where we conduct our activities as well as to the airspace for which we are responsible.
The weather forecasts are not only converted into text messages, but are also represented graphically through charts and meteograms.
Warnings for hazardous weather phenomena allow all the parties in the air navigation sector to take action in order to optimally guarantee safety.
EUR OPMET Databank
The Meteorological Department of skeyes is one of the three EUR OPMET Database agents. This database can be accessed via the Aeronautical Fixed Telecommunication Network (AFTN). You can download the Interface Control Document of the EUR OPMET Databases. This document contains the common database catalogue of the three EUR OPMET DB agents.
Climatology
skeyes establishes statistics based on meteorological data gathered at the airports.